Our Landscape Design Process
Our Landscape Design Process
Our Landscape Design Process
At Marcus Parker Landscape Architecture we work to create a smooth, focused design process. After initial consultation, we separate this process into four phases: Concept Design, Design Development, Construction Documentation, and Construction Administration.
Initial Landscape Design Consultation
Marcus Parker Landscape Architecture (MPLA) offers free initial consultations for all our potential projects. This involves meeting with the owner(s) on site to discuss landscape ideas, project objectives, programming needs, and any questions or concerns the owner may have.
Once these elements are understood, along with the site's opportunities and constraints, MPLA will draft a design proposal for the owner to review. If accepted, the design process begins.
Landscape Concept Design Phase
The pen is an extension of one's hand and thereby an extension of the mind: an express connection that enables thoughts to flow directly from one's imagination to paper. At MPLA we are big believers in the process of thinking, sketching, and exploring.
All our conceptual designs are produced by hand as we feel this is the best way to accurately communicate the essence of an idea. During the Concept Design phase, owners will be presented with a number of these ideas in the form of options that they can review, comment on, and add to from their unique perspective as owner and user.
Having this collaboration early in the creative process is key to achieving a finished product both the owner and MPLA can be proud of.
Landscape Design Development Phase
After a concept is chosen, the design is further developed by exploring landscape materials and patterns, plant palettes, and the finer landscape features not covered during Concept Design.
These materials are shown on image boards and paired with renderings to further enhance the client's visualization of their project. Physical samples are also reviewed during this phase. This tactile interaction marks the transition from ideas on paper to tangible products that begin to bring the design to life.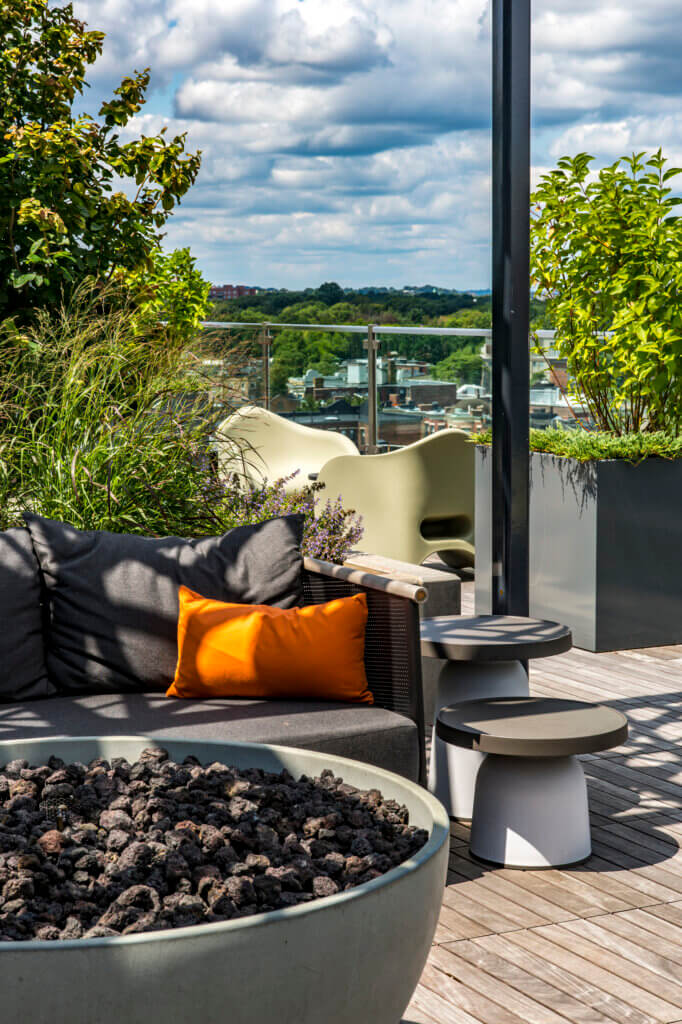 Landscape Construction Documentation Phase
When Design Development is finalized, the process of construction documentation begins. MPLA will take the design and draft a set of landscape construction drawings and specifications that contractors will need to accurately price and install the project.
These documents are also used for project permitting with local government agencies. Construction Documents are unique to each design and project, but usually consist of a Landscape Materials and Layout Plan, Planting Plan and Plant Schedule, Grading Plan, various Site Sections, Landscape Details, and Product Specifications.
Once documentation is complete, MPLA will assist in the bidding process to get your drawings in front of trusted landscape contractors who will competitively bid on the job to get the best price possible for your project.
Landscape Construction Administration Phase
Once awarded to a contractor, MPLA stays on through construction to project completion. Our construction administration support consists of reviewing and approving material submittals, answering any requests-for-information (RFIs) the contractor may have, and most importantly ensuring that installation is being conducted according to construction documents.
Marcus Parker Landscape Architecture will make various visits to the job site, generate field reports to record installation progress and notify the owner and contractor of any concerns. Once the project is complete, MPLA will make a final site visit to review punch list items with the owner and contractor before the project is closed out and completed.
Ready to Start Your Next Landscape Design Project?
Click here to complete our request a quote form or call 830-783-1685 to speak directly with Marcus Parker.